Snowshoeing is a hobby that appears more "extreme" or technical than it actually is. With a little research and technique, snowshoeing can be an awesome outdoor activity to get out and enjoy the winter snow!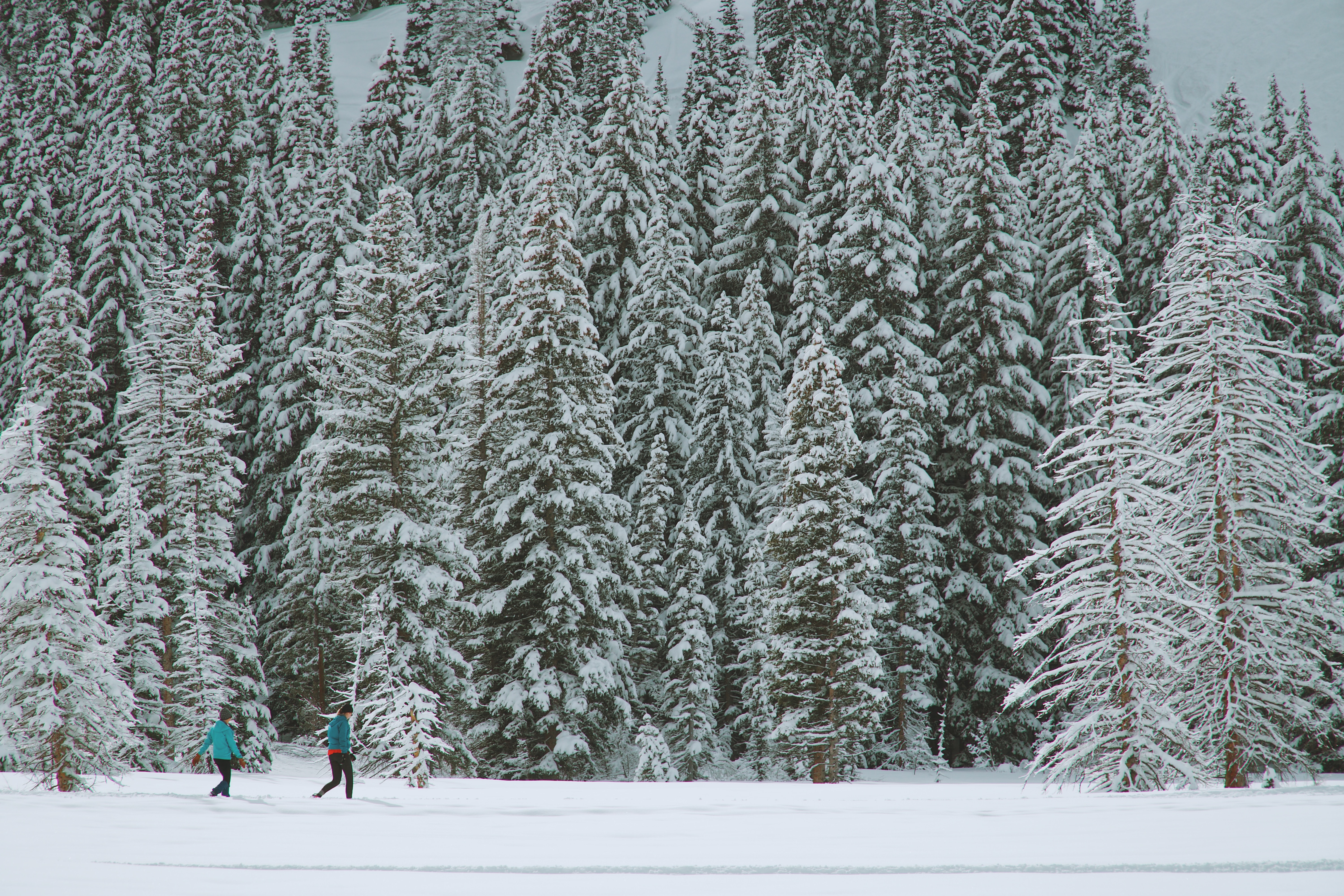 Where can I go snowshoeing?
To get the full effect and experience of snowshoeing, you need to go to a large outdoor area with a substantial amount of snow. A minimum of 6 inches of snow is recommended, but 1-3 feet of snow is ideal.
Snowshoeing can be accomplished anywhere there is a substantial amount of snow including parks, ski- hills, hiking trails and mountains.
As a beginner, It is best to start in a relatively flat area or park with a walking path that you are familiar with. When covered in snow, an area you may otherwise know well, can look totally different. Going somewhere you are familiar with can ease the nerves of starting a new hobby.
To start, we recommend finding an introduction class or group to snowshoe with. Check local outdoor recreation supply stores for beginner group outings. REI typically offers introductory classes throughout the winter for free or a minimal fee.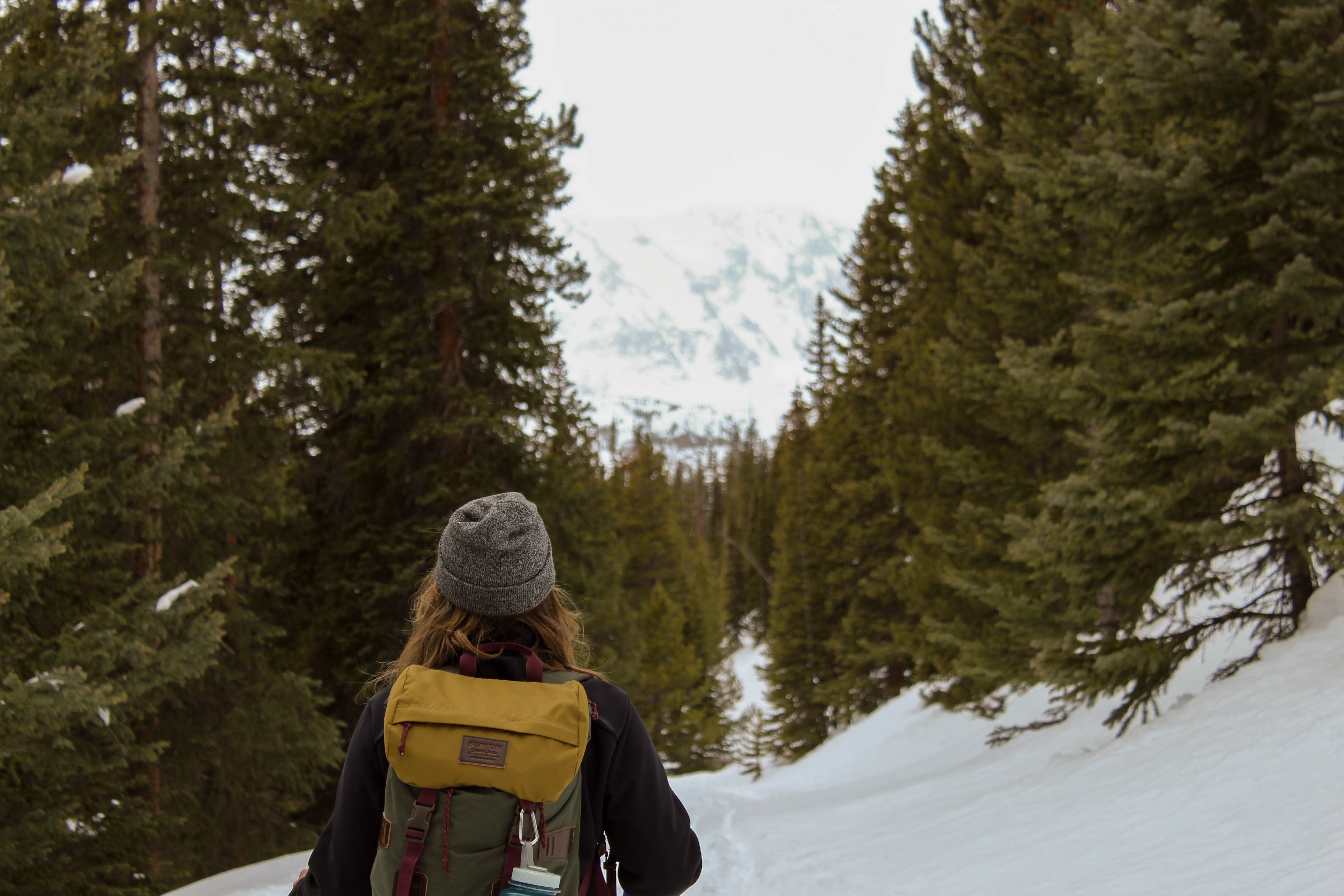 What gear do I need to start snowshoeing?
To start snowshoeing, there are a few pieces of essential gear that you will need to own or rent including…
Layers
For starters, anytime you are going outdoors (especially in the winter) you will need to dress in layers. There are varying practices on a proper layer system, but the basics are a base layer, mid layer, and an outer layer. Layers come in different material including merino wool or synthetic materials.
Clothing
Other clothing items that are recommended include gloves, winter hat and gaiters (thick waterproof sleeves that wrap around your ankle and under your boot to keep snow out out your boots.) and of course boots. Most snowshoes will fit around your winter / hiking boots. We recommend light-weight, but warm and waterproof winter boots.
Adjustable trekking or hiking poles will work just fine for snowshoeing! You may need to invest in a "basket" or circular piece to go around the tip of your hiking poles to keep them from immediately sinking into the snow.
When snowshoeing on flat ground, set the poles so that your elbows make a 90 degree angle with the ground. For more information on snowshoe poles, see the video below:
Depending on your experience level, type of terrain you'll be snowshoeing on and how quickly you would like to travel there are various models of snowshoe that you can purchase.
The main two types of snowshoes are recreational snowshoes and backcountry snowshoes.
Recreational snowshoes are flexible and easy to adjust with the necessary components for beginners to get out and start snowshoeing.
Backcountry snowshoes are a bit more durable with reinforced bindings and are built for steeper, more extreme terrain.
Many snowshoes have a heel raiser bar which helps to reduce calf fatigue on steeper hill climbs. The heel raiser is a small bar that can be raised to keep your heel from dropping all the way down on each step. These heel raisers are great for longer steep climbs and minimize the physical strain on your calves. If you will be hitting the hills, strongly consider getting snowshoes with the heel raiser!
When considering various models of snowshoes, consider what kind of deck, binding and traction will best suite your style and needs. This video highlights some main things to consider when choosing the appropriate snowshoe for you:
What are some basic snowshoeing techniques?
Snowshoeing does not require much technique especially if you are starting out on relatively flat terrain. Depending on the depth of the snow, you will move a bit slower and need to lift your feet a bit higher than your normal stride while snowshoeing, but essentially you are walking with aide gear.
Once you get more advanced there are some techniques to learn but they are mostly common-sense techniques that will come naturally as you progress. Some techniques involve are called stamping, edging, ascending, traversing and switchbacking. For more information see the video below:
A Note on Safety:
Whenever you are heading outdoors, it is necessary to practice basic outdoor safety including having warm clothing, water, food, flashlight, compass, map, cellphone and other emergency gear.
It is also important to tell people where you are going when you go outdoors. Even if you are just going out for a small adventure, leave a note, or send a text to someone telling them where you are going.
Lastly, educate yourself about avalanches. If you plan on doing any winter activities in the backcountry, it is incredibly important to know what to look out for in terms of avalanche conditions. REI offers affordable avalanche classes throughout the winter.
Snowshoeing is relatively inexpensive and easy to get started. It is a great social, winter hobby that is perfect for outdoor lovers and people looking for a way to get out and exercise in the snow!
Recommended Links: