Watercolor painting is a relaxing lifetime hobby to get your creative juices flowing. Pick up a watercoloring set, paper, and a few brushes and start creating!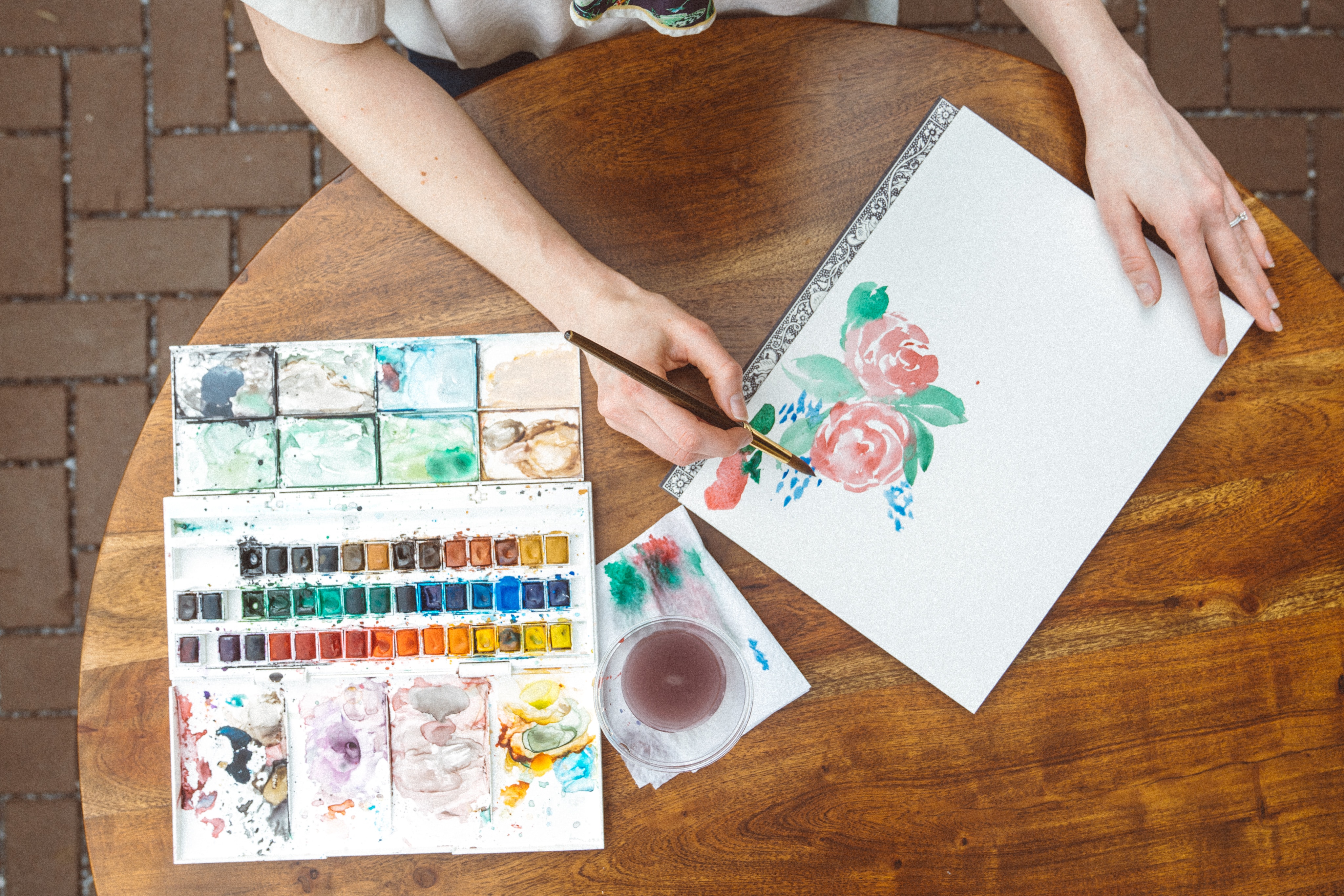 What is watercolor painting?
Watercolor painting is a form of painting where various soluble pigments are mixed with water then applied to watercolor paper in an artistic styling. Watercolor differs from other styles of painting with it's unique transparent and delicate styling.
What supplies do I need to start watercolor painting?
Compared to other styles of painting, watercolor painting can be an easier to start, especially on a lower budget. While a set of acrylic or oil paints, canvas and brushes can cost a pretty penny, getting started with a watercolor set, watercolor paper, and watercolor brushes can be very affordable. Some basic, necessary supplies to get started with watercolor painting include:
Watercolor Paint – Watercolor paints can be purchased in tubes or as a palette set. For a beginner, it is recommended that you start with a palette set.
Watercolor Paper – Watercolor papers come in three main paper types including: hot-pressed, cold-pressed, or rough
Paintbrushes – Watercolor paintbrushes come in a range of shapes and sizes all with various utility. We recommend having an arsenal of different brushes for different techniques. Brushes can be purchased individually or as a set seen here.
Paint Mixing Palette – While not necessary with a paint palette set, a separate mixing palette can be a useful tool to get your color mixing just right.
Cardboard and Masking Tape – Taping down and securing your watercolor paper can sometimes be necessary to avoid any paint bleed through onto your working table. Any recycled piece of cardboard will do.
Paper towel or Rag – To keep your brushes clean and dry and to keep your hands and working area tidy.
Water – Duh haha… You will need a couple glasses of water while watercolor painting. One cup of water to clean your brush and another to dip and mix with your watercolor paint. (Note, keep an eye on your water as it can start to get dirty as you continuously mix and clean your brushes. Clean water will ensure that your colors stay true and you produce the desired colors for your artwork.)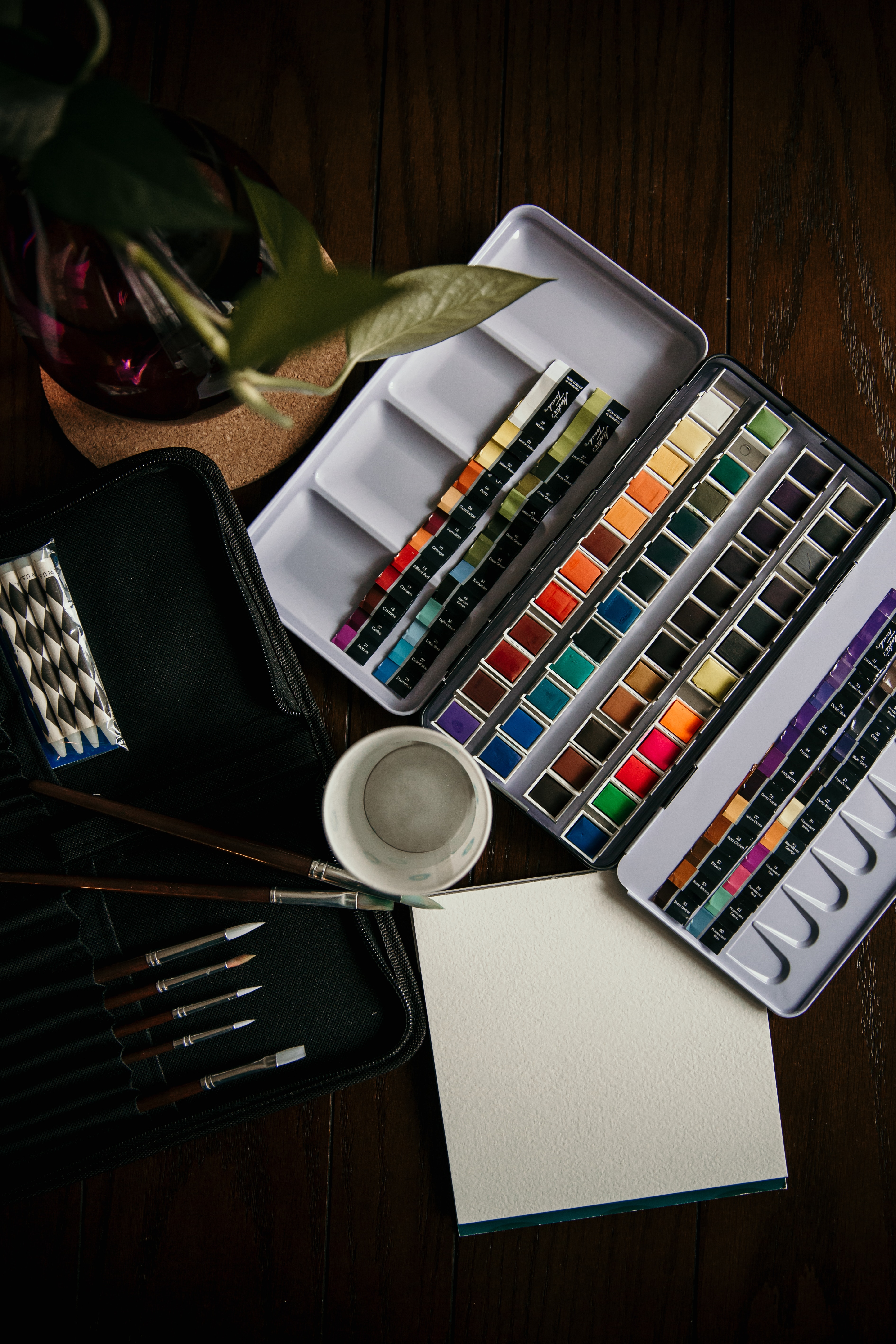 What are some basic watercolor techniques?
There is a large variety of watercolor techniques that a painter can use to create different looks and textures including washing, wet-on-wet, wet-on-dry, glazing, scumbling and many others.
We've found a great tutorial series, highlighting many watercolor painting techniques for you to view here:
Are there any benefits to watercolor painting?
Yes! There are many social, cognitive, emotional and even physical benefits to watercolor painting! Watercolor painting is a wonderful creative outlet which can be therapeutic for anyone! Following are a few great benefits of watercoloring painting:
Improved Concentration – Focusing on your art work and the fine details of your subject can greatly improve your concentration in other areas of life.  Studies show that medical students who had fine art classes showed improved focus and concentration times across the board.
Improve Fine Motor Skills – Watercolor painting improves hand-eye coordination and fine motor skills. This is not only improves fine motor activities like handwriting and typing, but can also improve coordination in gross motor activities such as sports.
Boosts Creativity – Watercolor painting is a great hobby to boost your creativity and artistic skills! Regularly painting will increase your creative abilities and skills artistically and in other areas of life.
Increase Self-Confidence – As with most hobbies, spending time honing your skills, especially in a creative craft, is a great way to improve your self-confidence and to practice your ability to improve your skills at something. Some therapists refer to this as "building the skill of building skills".
Increase Empathy and Appreciation – Spending time on creative endeavors naturally increases our empathy and appreciation for other artists. When we spend time improving our own skills, we appreciate the art and creative works of others.
With all of the enjoyable and therapeutic benefits of watercolor painting, we highly recommend giving it a try! Please see our recommended links for further resources and information…
Recommended Links

:
As always, don't forget to check out or blog for the latest exciting pastimes and hobbies!