We all know that skiing is a good time, but did you know that there are many health benefits that come along with shredding pow?
Below is our list of the top 7 health benefits of downhill skiing!
1.) Burns Calories
Downhill skiing is an excellent workout that can help you burn calories and stay fit.
Research from Harvard Medical School cites that a person weighing approximately 155 lbs. can burn up to 450 calories in just an hour of skiing!
2.) Engages Core Muscles
If you've ever skied, its likely no secret to you that it will engage your core like no other.
With proper skiing technique, you will be using most of your muscles, but specifically your core while navigating the slopes.
Trying to get that six pack stacked up for summer? Skiing this winter will get your abs popping…
3.) Strengthens Lower Body
While skiing, you will likely be in the squat position most of the way down the hill.
While hitting bumps, carving and turning you will be using muscles in your legs that otherwise don't get a decent workout when walking or running.
Downhill skiing will engage muscles in your legs and feet that you didn't even know existed.
Be sure to stretch and hit an ice bath after a long day on the hill.
4.) Increases Flexibility
Downhill skiing engages muscles you may not normally use.
This not only increases strength, but can increase your flexibility in various ways.
We recommend stretching before and after a long downhill skiing session to maximize the benefits of increased flexibility that downhill skiing can provide.
5.) Boost Your Mood
Carving down the mountain and bouncing through the trees is one of the most smile inducing winter activities you can do!
Physical activity and being outdoors are naturally stress reducing activities, coupled with the health benefits that can achieved from natural sunlight / Vitamin D, makes skiing an amazing winter activity to boost your mood.
Healthy sun exposure resulting in Vitamin D absorption has many benefits including healthier bones, diminished anxiety / depression and healthier skin! All of which can help to combat Seasonal Affective Disorder.
While there are benefits to the sunlight, be sure to wear sunscreen and consider the hazards of snow-blindness while on the mountain.
Always wear ski goggles when you're skiing to protect your eyes and sensitive skin around your eyes.
Still need goggles for this season? We recommend polarized goggles with UV protection and fog resistant properties like the Crisco Ski Goggles from Wildhorn seen here: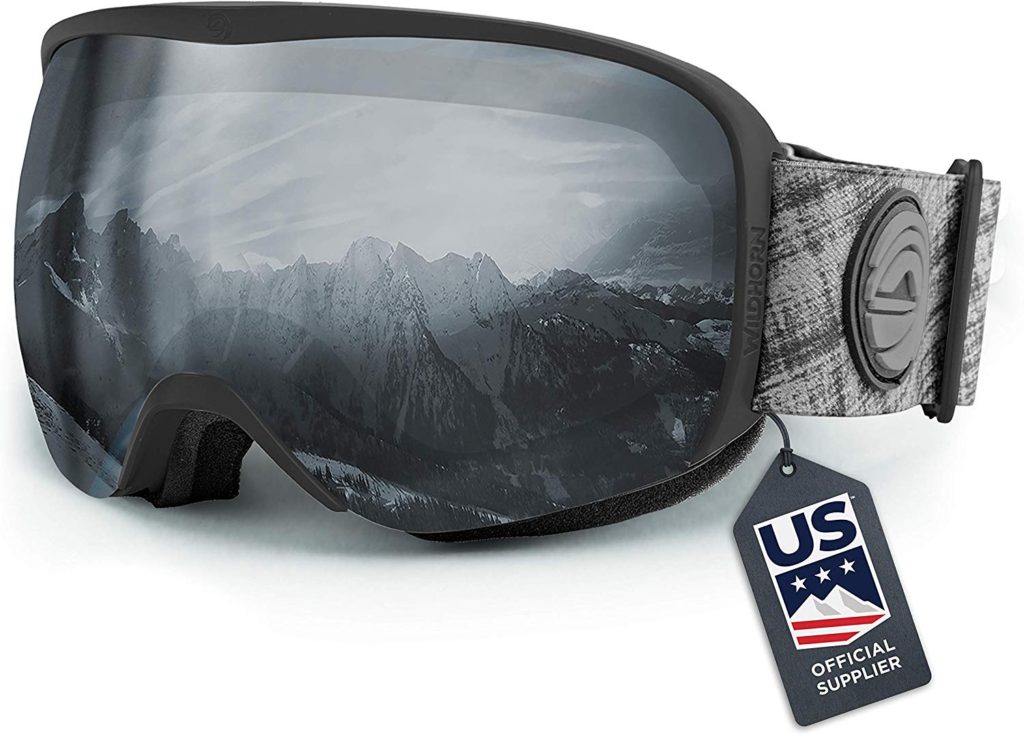 6.) Improves Balance
If you can recall the first time you strapped on your skis, you probably also recall the bruises you had on your legs and rump at the end of the day.
If you stuck with it, you now likely end your ski day with fewer bruises than you did as a beginner!
Your balance and skill has improved, as it does with anything you stick with and practice.
This improved balance extends to more than just skiing though. Skiing improves your balance in other athletic endeavors and every day life!
7.) Promotes Deep Sleep
Post-ski sleep is the best sleep. Skiing engages your whole body, and you will be wrecked in the best way by the end of the day.
Sleep like you earned it after a rigorous day on the slopes and let your body heal up for round two!
With all of the health benefits of downhill skiing, we recommend hitting the slopes this season and reaping all of the benefits that skiing has to offer!
Looking for more winter sports with amazing health benefits? Check out our full beginners guide to snowshoeing!
Still need your ski pass for this season? Check out the Ikon Pass! Including 41 destinations across the United States and the World, available from Amazon!
Check out our List of Skiing Quotes to get inspired for your next run down the mountain!