Gather the family and play a few of these popular and exciting word games on your next game night. Improve your vocabulary, practice your spelling and learn while having fun!
Scrabble
Scrabble, the classic crossword game, is full-on fun for friends and family. You can feel the excitement begin as soon as you rack up your letters, choose the perfect word, and aim for a triple-word score.
If you need some extra help coming up with the perfect word to score on your bonus tiles, try a word unscrambler. All you have to do is enter the letters you're working with. You can also specify if you're looking for words that start with, end with, or contain letters in order. Finally, the tool generates a list of words that can give you a competitive edge during game night.
Play the popular Scrabble game the classic way as you take on opponents head-to-head, for a challenging and fun time whether you're a beginner or an expert.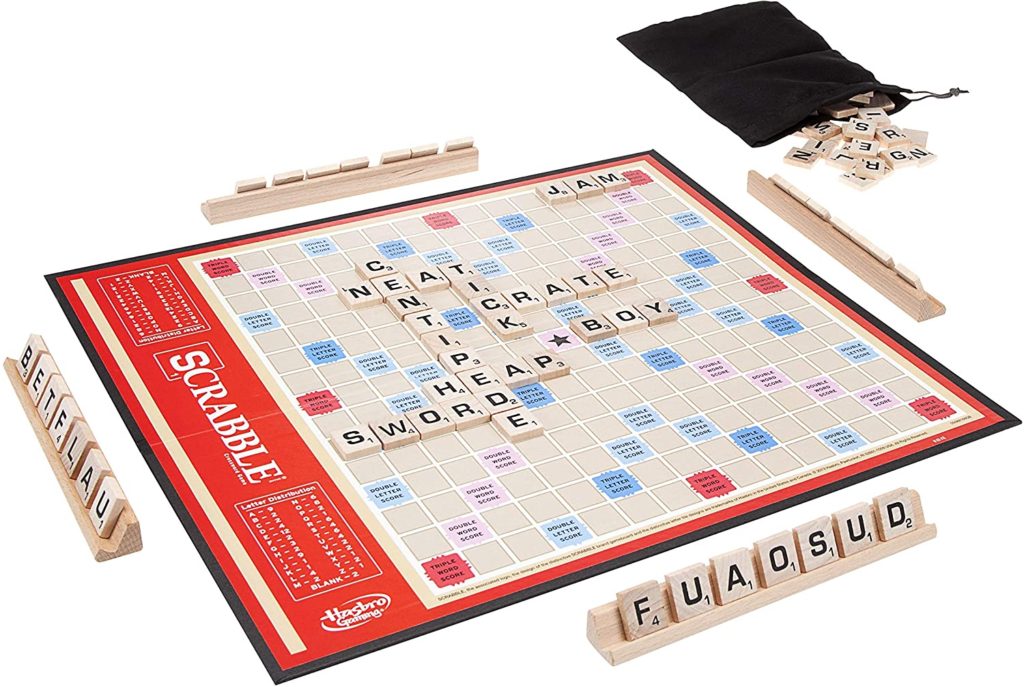 Bananagrams
Bananagrams is the award-winning word game that needs no pencil, paper, or board.
Players race against each other to build crossword grids and use all their letter tiles first. Bananagrams comes in a small portable banana-shaped pouch so is great for travel, and is perfect for everyone 7 & up.
The BIG Letter version of Bananagrams was inspired by 85-year-old Chicago resident and Jan Siemsen who suffers from Macular Degeneration, the leading cause of vision loss in the elderly, affecting more than 10 million Americans overall.
A portion of the Bananagrams BIG Letter sales proceeds will benefit the American Macular Degeneration Foundation to help further their dual mission of educating people about how to thrive despite having the disease and supporting research to prevent, treat and cure it.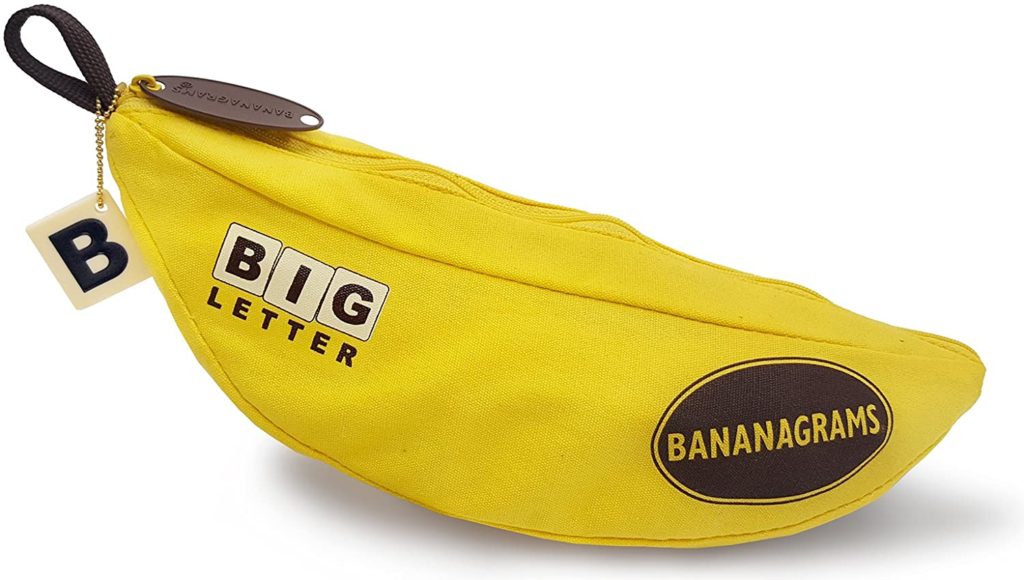 Upwords
The higher you stack, the higher you score!
In Upwords, each player starts with 7 letter tiles. Play words across or down to make new words or stack on top of tiles to change a word! Earn points for every tile put down.
Stack and hack to get the highest score! Score points for words a single tile high and for any letter tiles stacked underneath. Earn bonus points if you use all 7 of your tiles in a single turn. Fun for players of all skill levels to compete with each other!
Upwords is the word game of high-stacking and word-hacking for ages 8 and up. Can be played with as many as 2-4 players or played solo.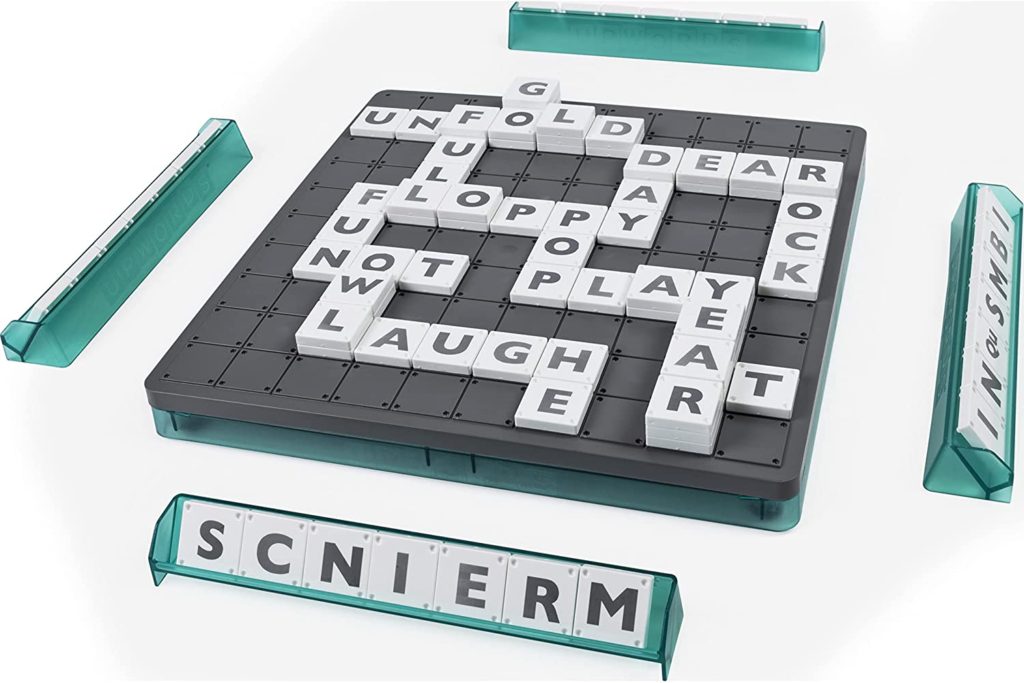 Boggle / Big Boggle
Boggle is another classic family word game that you should have around!
Earn points by spotting words your friends don't before time runs out. Shake the grid to mix up the letter cubes. Then lift the lid and flip the timer.
Players have 90 seconds to write down as many words as they can find on the grid before time is up. At the end of the round, score the words.
If two or more players find the same word, that word doesn't count. The player with the highest score wins. Game comes in an easy to store travel case for both timer and dice!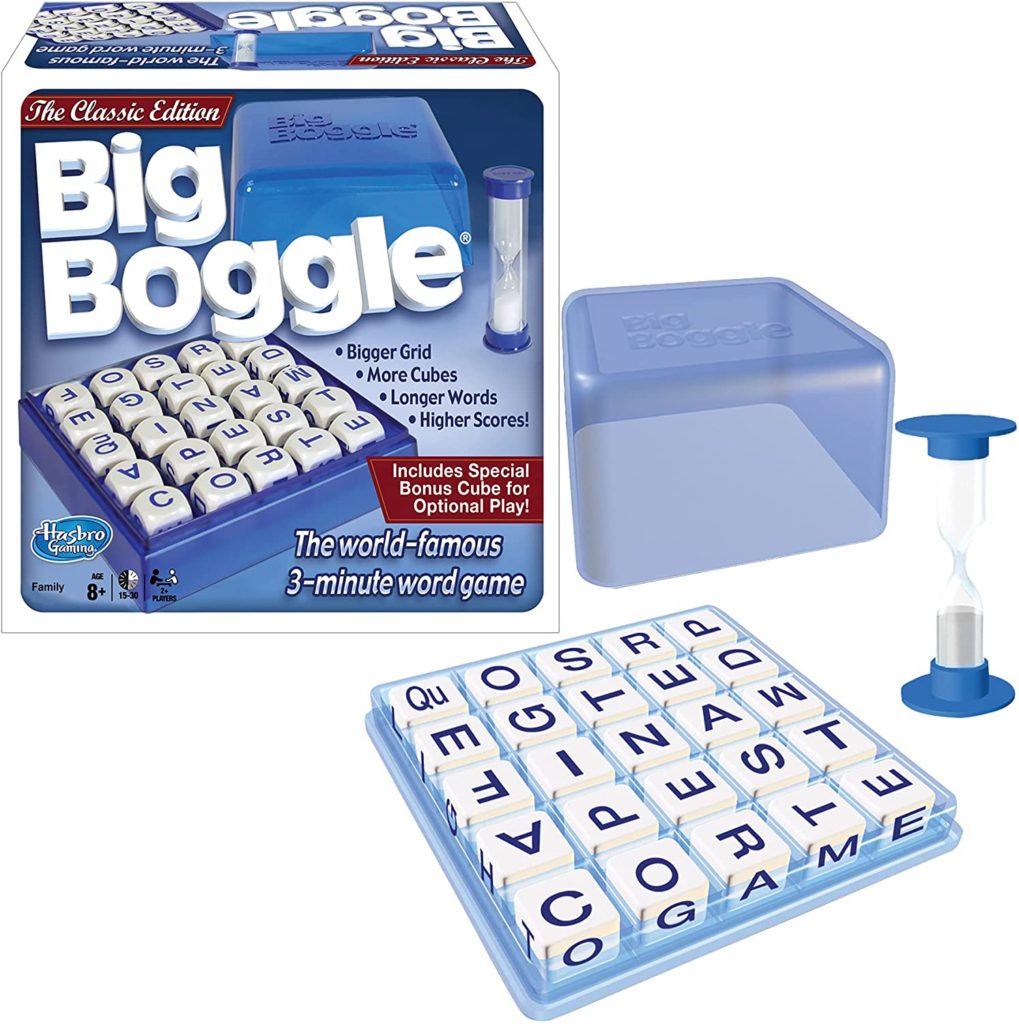 Quiddler
Quiddler is easy to learn and fun for everyone!
The goal is to arrange all the cards in your hand into one or more words. The number of cards dealt increases each round – starting with three cards and ending with 10 cards.
High score wins, so use your high point letters and Quiddler's unique double letter cards — but don't get caught with them in your hand!
Aim for the bonuses—one for the most words and one for the longest word! It's great for families and parties! Plus, it sharpens skills like spelling, vocabulary and critical thinking, so teachers love it, too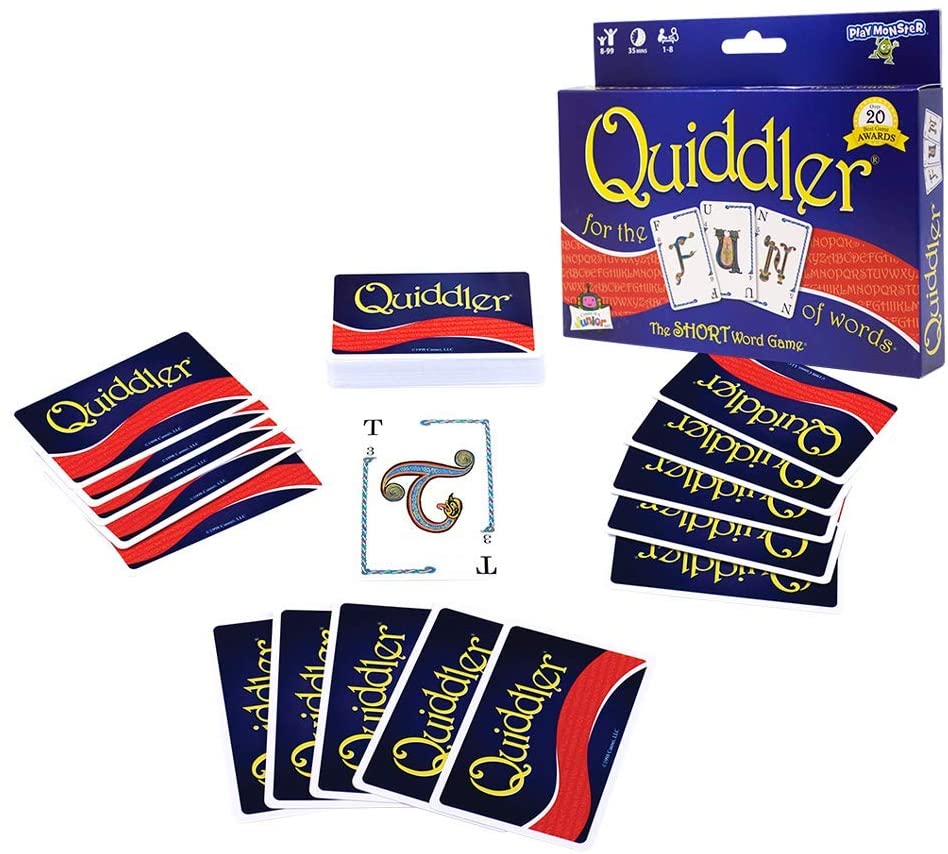 Word Dominoes
This creative new twist on an old favorite invites players to create words and phrases by linking images.
Match what other players are thinking to win!
With 42 sturdy dominoes, 84 images, and unlimited connections, every game is packed with unexpected associations and hilarious combinations.
An eye-catching party game, Word Dominoes will captivate voracious word nerds everywhere.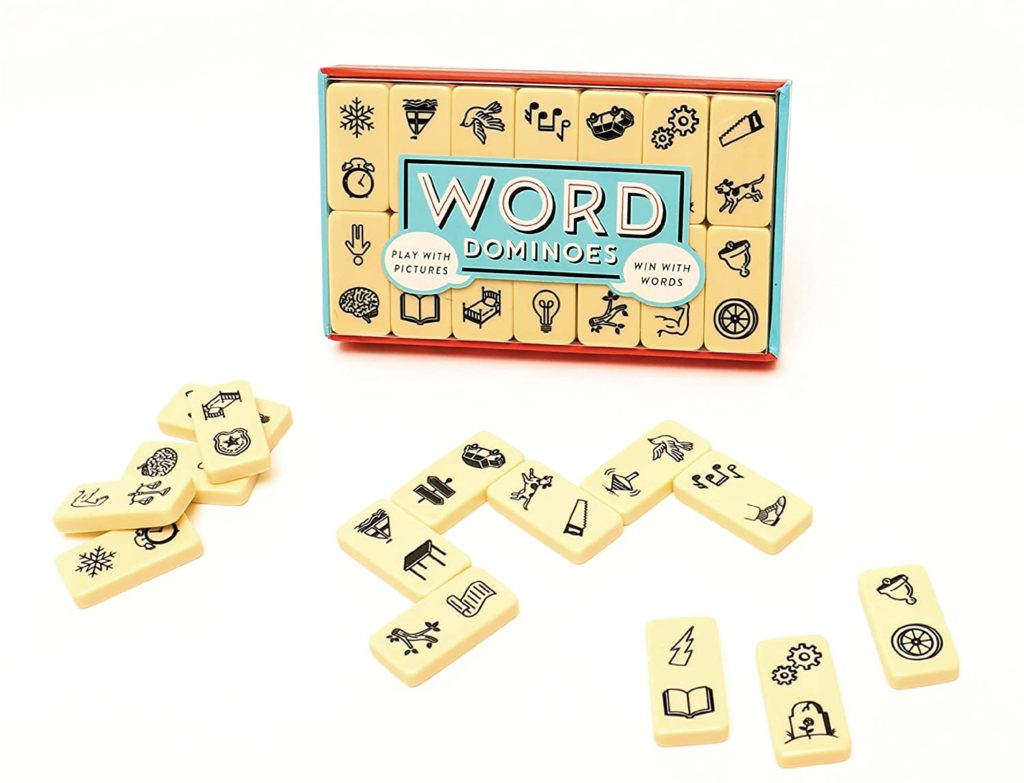 Catchphrase
CatchPhrase is an electronic game with 5,000 words and phrases. Try to get teammates to guess the word or phrase that appears on the screen by describing it any way possible — but do it fast!
There are plenty of categories to choose from including Fun and Games, Entertainment, Everyday Life, Variety, and The World.
Don't get caught holding the unit when the buzzer goes off because the other team will score a point. The first team to reach 7 points wins.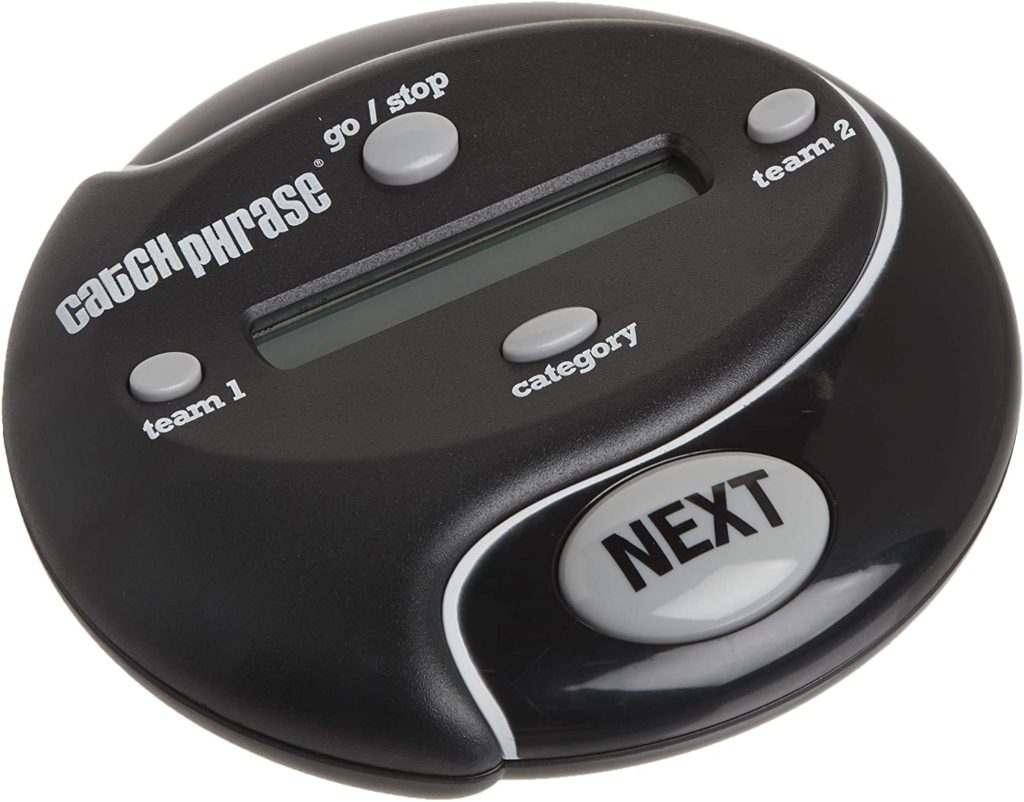 Play On Words
Break free from the constraints of tile/grid word games and simply play on a tabletop. In this fun, family game for kids and adults, players build words from 8-card stacks showing available letters.
Combo cards, flip cards and wild cards give even more options in finding word possibilities. In addition, during each turn players experience a whole new level of creativity by being able to "play on" (adding to, inserting or rearranging) already-played words — even their opponent's — for added points!
The versatility allowed in Play on Words makes this game a mind-sharpening challenge for casual word game players and word enthusiasts alike. For 1-4 players. Young players often enjoy playing in teams.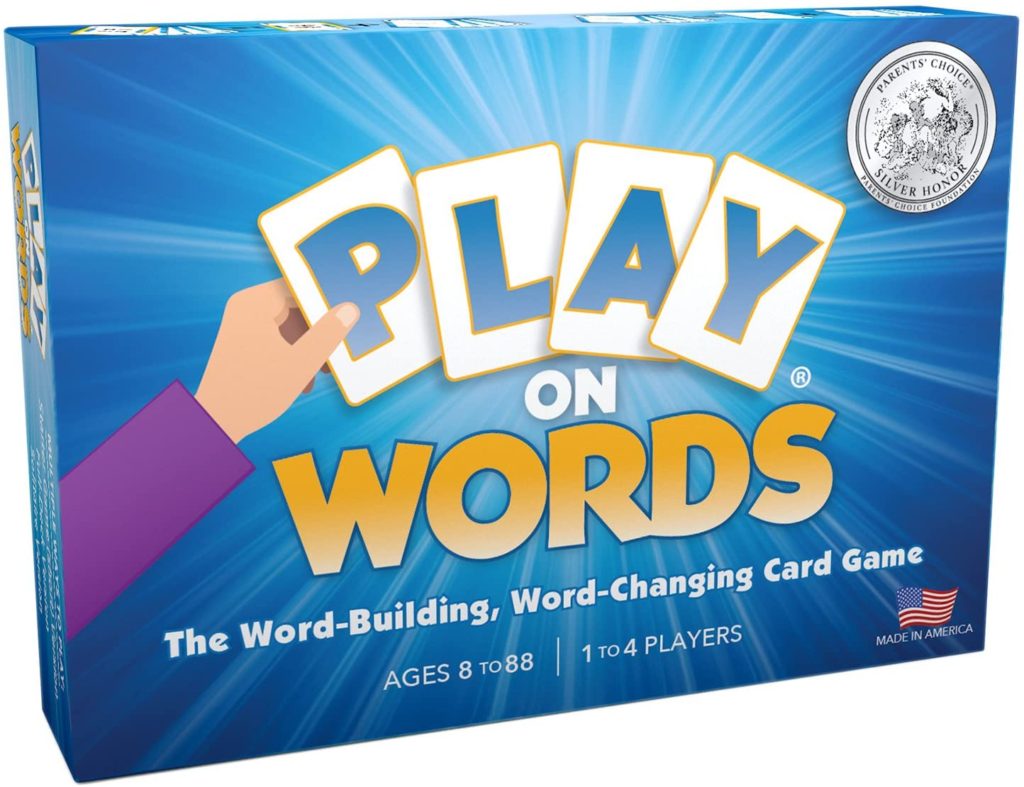 Scattergories
Teams come up with answers that fit the categories listed on their card. Sounds easy, but the answers need to start with the letter rolled on the die!
Come up with as many answers as you can before time runs out, but be creative – your team only gets points if no other team has the same answer.
The game of Scattergories took the country by storm when it was first launched in 1989. This classic reproduction features the components and categories found in the original Scattergories game.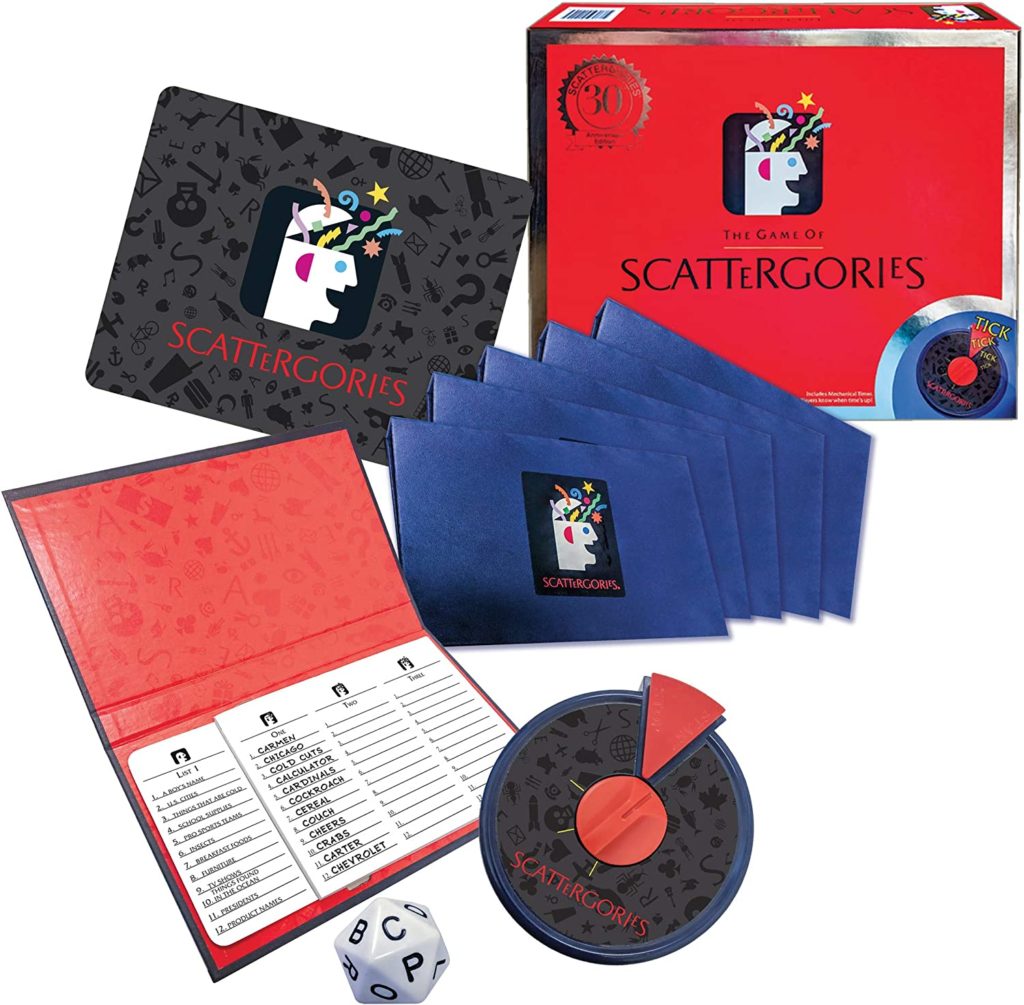 Punderdome
One part game, one part conversation starter, you don't need to be a pun master to master Punderdome: the goal is to make bad jokes and have fun along the way.
A player (the prompter for that round) draws two prompt cards from the deck, and then reads the prompts to the rest of the group, who have 90 seconds to create a single, groan-worthy pun that combines the two prompts.     
When time is up, pun makers share their puns with the prompter, who awards the prompt cards to the player whose pun he or she likes best. The winner then draws the next pair of prompt cards and the process repeats. Players win by obtaining 10 pairs of cards.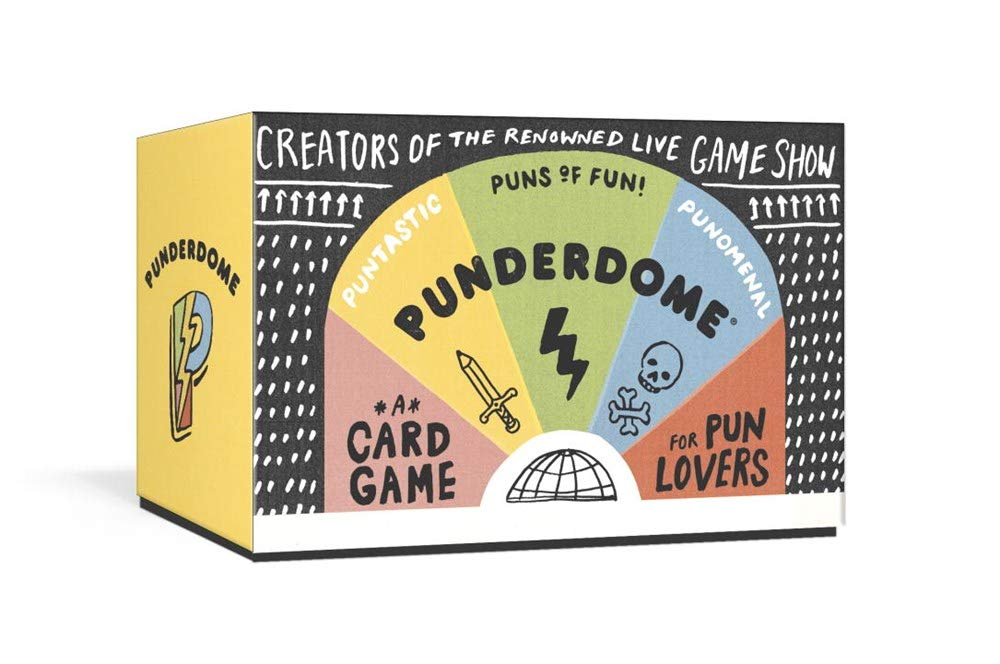 Whatever game you choose to play, you're sure to have a great time while learning something new! Need more fresh hobby ideas? Be sure to check out our other blog posts here…